Composer receives the award De Pura Cepa

| | |
| --- | --- |
| Beatriz Luengo | Source: Rosana Rivera |
Awards De pura cepa in Spain
Responsible Author: Jose A. Martin | Logrono, Spain, 03/16/2018, 15:46 Time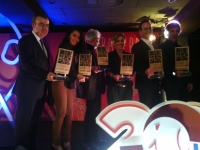 USPA NEWS -
A Spanish singer-songwriter based in the United States and a writer of best sellers whose works, translated into English, are sold in the United States, along with four other people, received the 'De pura cepa' awards granted by TVR, the regional television of The Rioja. Beatriz Luengo and Lorenzo Silva shared awards with veteran actor Jose Sacristan, singer Mikel Erentxun, humorist Joaquin Reyes and the irreverent television journalist Cristina Pardo.
Post Apocolyptic Australia
Responsible Author: Robbie Merritt | Sydney , Australia, 02/24/2018, 16:27 Time
USPA NEWS -
Russell and Sarah are faced with what to do after they find out young Madison has an extraordinary condition.
Abandoned - Hide & Seek pt1 | Sci-Fi Action Web series - Pilot Episode
Abandoned is a new sci-fi action web series that will follow a small family who have survived an apocalyptic epidemic. Pursued by an unknown force, they must work together to endure a hostile new world where trust is a luxury they cannot afford.
Filmed entirely in Australia, home of the legendary Mad Max, Hacksaw Ridge and Crocodile Dundee.
CAST
Lauren Birdsall
Zahlee Moore
Peter Walters
Nobuaki Shimamoto
Jerry Retford
Isabella Martin
Official Facebook page: www.facebook.com/Abandonedshow
Instagram: @abandonedshow
Category
Film & Animation
License
Standard YouTube License
| | |
| --- | --- |
| | Robbie Merritt |
| | DENNIS WARD |
| | Jose A Martin |
| | Ricardo Dominguez |
| | Zayad Alshaikhli |
This will be shown to users with no Flash or Javascript.