Search results for: "France"
UKRAINE IRAN SYRIA & OTHER HOT TOPICS
Responsible Author: Jedi Foster P/O Rahma Sophia Rachdi | Paris, Wshington DC, 08/19/2019, 19:29 Time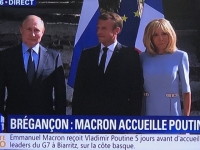 USPA NEWS -
President Vladimir Putin was received today Monday, August 19th by the President of the French Republic Emmanuel Macron and his wife Brigitte at the fort of Bregançon, (South of France, near Brome the Mimosas), five days before the opening of the G7 which France has the presidency of 24-26 August in Biarritz. This summit of the Group of 7, G7, which brings together the seven leaders of the main industrialized countries with the exception, precisely, of Russia. Russia, which was part of the G8, was excluded from the group of powerful after the annexation of Crimea in 2014. The venue of this meeting in Bregancon is very symbolic, in a "solemn summer" of the Head of State French, who receives his Russian counterpart, The Russian President, Vladimir Putin, arrived by helicopter on the tarmac of Fort Bregancon, at 17h and climbed the few steps up his hands loaded with a beautiful bouquet of flowers that he offered to the First French First Lady, Brigitte Macron .. Last summer, the head of state Francis had received Theresa May, the former British PM. It is the most summer symbolic diplomatic meeting to be held by French President in Bregancon Fort, since General De Gaulle.
DISCUSSING FORMAT NORMANDIE AND OTHER T
Responsible Author: Jedi Foster P/O Rahma Sophia Rachdi | Paris, Washington DC, 08/19/2019, 01:22 Time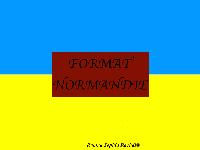 USPA NEWS -
Sergey Lavrov said he was in favor of a meeting of the Russian, Ukrainian, French and German governments to negotiate a way out of the crisis in Ukraine. On one condition: the respect of the agreements concluded in 2016 in Minsk.
Russian Foreign Minister Sergei Lavrov revealed on August 15, during the All-Russia Youth Forum "Territory of the Senses", that Moscow was in favor of a meeting in Normandy format aimed at providing solutions to the Ukrainian crisis. According to the head of Russian diplomacy, the condition sine qua non at this meeting, which would include the French, Russian, Ukrainian and German diplomats, is that the agreements previously concluded in October 2016 in Minsk are respected. "We will firmly defend, on the world stage, the need to implement the Minsk agreements. We will be ready to meet in the Normandy format, but to do this, it is first necessary to accomplish what the leaders [...] agreed on almost three years ago, "Sergei Lavrov said. At a meeting in Normandy format (which brings together Ukraine, Russia, France and Germany) in October 2016, agreements had been concluded, including a ceasefire in Donbass. Ukrainian President Volodymyr Zelensky said
| | |
| --- | --- |
| | RAHMA-SOPHIA RACHDI |
| | Daren Frankish |
| | Ruby BIRD |
| | Yasmina BEDDOU |
| | Roberto Magni |